The Events2HVAC Windows Service is the process that handles all automatic scheduling in Events2HVAC. This will only be running on the E2H server (not Remote clients). This is also referred to as the "Command Queue." The service can be started and stopped using two different methods:
Warning: Stopping the command queue will stop any automatic scheduling with Events2HVAC. Make sure you are not stopping and starting during times when schedules are executing as this may disrupt or delay these operations.
Administration Tools
You can start/stop the command queue using the standard Services Administration Tool.
Find the Adminstration Tools in your Start Menu and select Services. You can also just search for Services and it should find it.
Locate Events2HVAC_Service and select it. You can see the current status of the service: Started, Stopping, etc.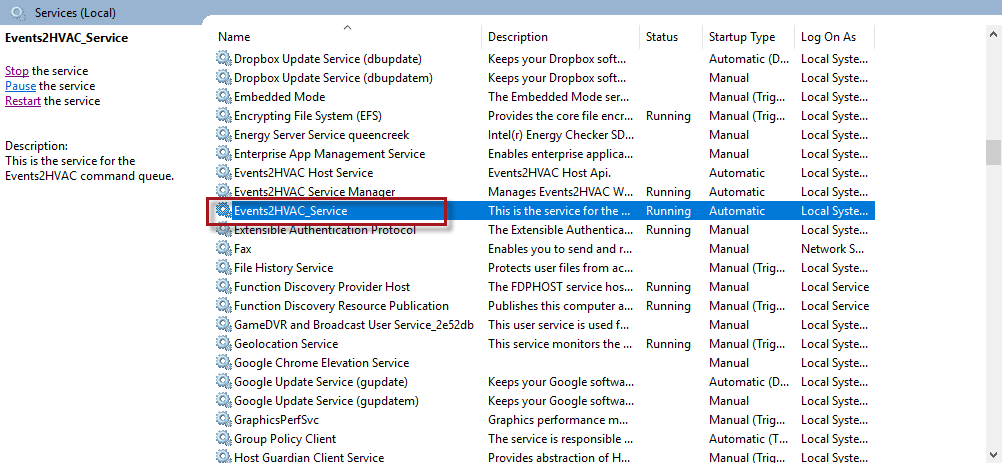 Perform Start, Stop, Restart as needed.
Using the Events2HVAC Client
You can also control the command queue using the Events2HVAC Client.
Go to Tool | Events2HVAC Options
Find the Command Queue Tab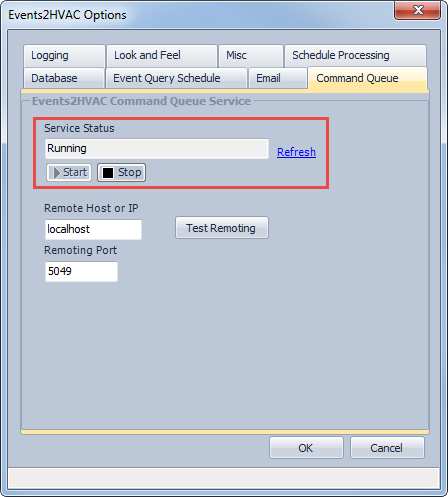 Click on the Start Or Stop buttons to command the service.
Note: This operation is not available from a Remote Events2HVAC Client. Use the client on the E2H server to perform this operation.