Applies To:  Johnson Controls MSEA device interface
Events2HVAC customers that are using the Johnson Controls MSEA device interface to control room HVAC may be affected when MSEA is upgraded to version 6.0.  At version 6.0, the default security settings for users are changed such that the login username and password that E2H uses to login to MSEA becomes invalid without any warning.  This will result in commands being missed at event start and stop times because of the login failure.
If JCI is planning on upgrading your facility to MSEA v6, make sure they know that Events2HVAC is using a dedicated computer to computer login account to send commands to MSEA using web services.  This user account needs to have a fixed password.
If you are using the "MetasysSysAgent" default username as the E2H login to MSEA, you will need to create a new user in MSEA for the Events2HVAC login.  In the Account Policy tab for this user, make sure you select "Password Never Expires".  If you are using a different username, verify that the "Password Never Expires" option is selected.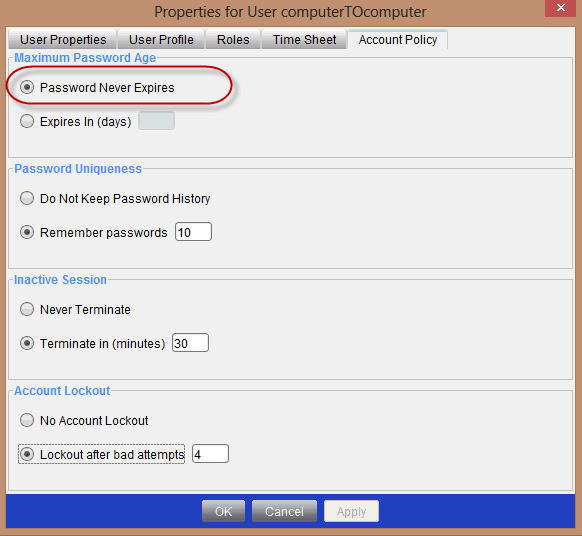 After the user for Events2HVAC has been created, you or your JCI representative will need to synchronize the ADS/ADX site security database with all the NAE/NCE/NIE controllers that will be accessed with that username.  This step is done with the JCI SCT software using the Security Copy or the Security Backup/Restore feature.
Warning:  SCT Security Synchronization should be performed by a qualified JCI technician.
See Also:
After the security databases are synchronized, open the MSEA options dialog in E2H (Device Interfaces | JCI MSEA | JCI MSEA Options) and change the User Name and Password fields to the new credentials.  Verify connection with the "Test" button.  Note:  This connection test only tests credentials to the site host, not all the way to the controllers.  You will need to test an action to fully test the credentials.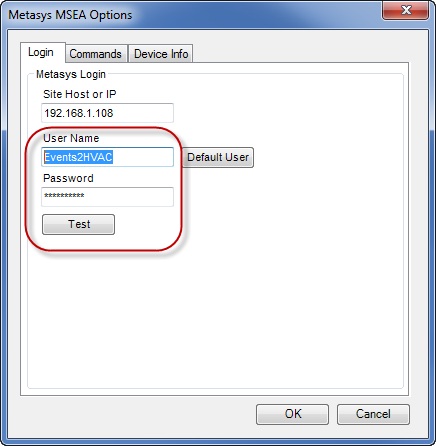 Next, test sending commands to JCI from E2H equipment actions to make sure the changes work as expected.